UV Accelerated Weathering Tester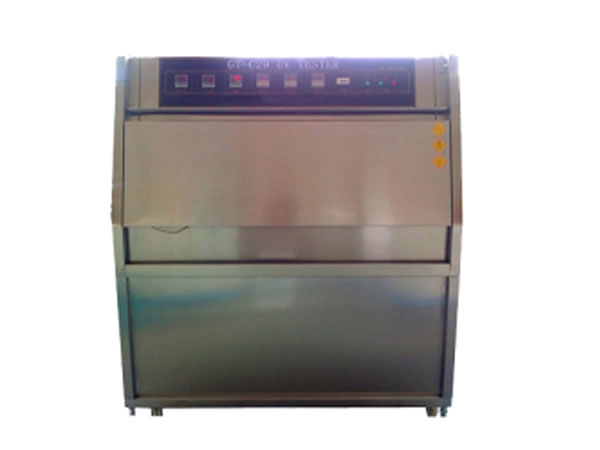 The UV accelerated weathering tester makes use of UVA-340 lamp and condensation mechanism to simulate sunlight, dew and rain, thus reproducing subsequent damaging effects, like fading, yellowing, cracking, peeling, ageing, oxidation, brittleness, loss if tensile strength, etc.
Standard
ASTM G153, D4799, D4587, D4329, G154, G53, ISO 4892, SAE J2020 and so on
Principle
Tested materials receive a number of alternative UV cycles and moisture cycles at certain temperatures to undergo accelerated weathering test, generating reproducible and reliable weathering data in just a few days or weeks, which otherwise will be produced over months or years outdoors.
During this process, our UV accelerated weathering tester automatically monitors UV temperature and water temperature, and the CR-10 irradiance controller is employed to regulate and stabilize irradiance at 0.68W/m2/340nm, 0.55W/m2/313nm or other desired values while also greatly prolonging the service life of UV lamp.
Feature
1. Our UV weathering tester uses fluorescent lamps to simulate critical short-wave UV lights in order to reproduce physical property damage caused by sunlight, and it is easy to use and requires little maintenance cost. In addition, the sample surface is parallel to the UV lamp plane.
2. The housing is manufactured from 1.2mm thick 304 stainless steel via advanced CNC machining to give a smooth and beautiful look, and the air channel uses a single cycle system and an imported axial flow fan to improve air flow and temperature stability.
3. Eight 40W UVA or UVB lamps are mounted on 2 sides of the test chamber, and their service life reaches up to over 1600 hours. Every day, about 8L of tap water or distilled water is consumed.
4. The UV accelerated weathering tester adopts water channel heating method to realize fast heating and uniform heat distribution, and it will feed water automatically to protect heating tubes from dry heating.
5. The bottom of this UV weathering test equipment is fixed by high-quality PU running wheels, and specimen holders are made of stainless steel and aluminum alloy.
6. An automatic sprinkler is placed inside the spray system to adjust water pressure, while a multicolor touch screen or a RKC intelligent controller is employed.
7. For safety considerations, several protective functions are offered, like circuit breaker, overload protection, short circuit protection, over temperature protection and water shortage protection.
Technical Data of UV Accelerated Weathering Tester
| | |
| --- | --- |
| Model | GT-C29 |
| UV wavelength | UVA: 315-400nm UVB: 280-315nm |
| UV temperature | 50-70℃ with tolerance of ±3℃ |
| Condensation temperature | 40-60℃ with tolerance of ±3℃ |
| Black panel temperature | 30-80℃ with tolerance of ±1℃ |
| Temperature resolution | 0.1℃ |
| Centre distance between lamps | 70mm |
| Centre distance between specimen and lamp | Approx. 50mm |
| Irradiance | Adjustable within 1.1W/m2/340nm |
| Controller | Multicolor touch-screen (KoreanTEMI880) or intelligent RKC controller |
| Temperature control method | Self tuning PID, SSR control |
| Test time | 0~999h (adjustable) |
| Humidity range | 45%-70%RH |
| Internal size of test chamber | 450×1170×500mm |
| Overall dimensions (H×W×D) | 1370×1350×530mm |
| Weight | 150kg |