Flammability Test Instrument (45Degree Flammability Tester)

The 45 degree flammability tester is a commonly used flammability test instrument intended to determine the burning characteristics of textile under controlled conditions, and it is also called 45° automatic flammability tester.
Features of the Flammability Test Instrument
1. This flammability test equipment has a stainless steel test chamber with glass observation panel, and it offers automatic timing of flame spread (0.1 second increment) after ignition
2. Our 45 degree flammability cabinet is equipped with a LCD display to facilitate work, and it also realizes easy yet safe operation. In addition, the brushing device includes spare nylon brush.
Technical Data of the Flammability Test Instrument
| | |
| --- | --- |
| Model | GT-C32 |
| Timing range | 0-99.9s |
| Timing increment | 0.1s |
| Ignition time | 1s or any value within 0-99.0s |
| Dimension s | 370×230×540mm |
| Weight | 30kg |
| Standards | ASTM D1230, NFPA 702, FTMS 191-5908, CRF 16-1610, CALIF TB 117 |
Structure of the Flammability Test Instrument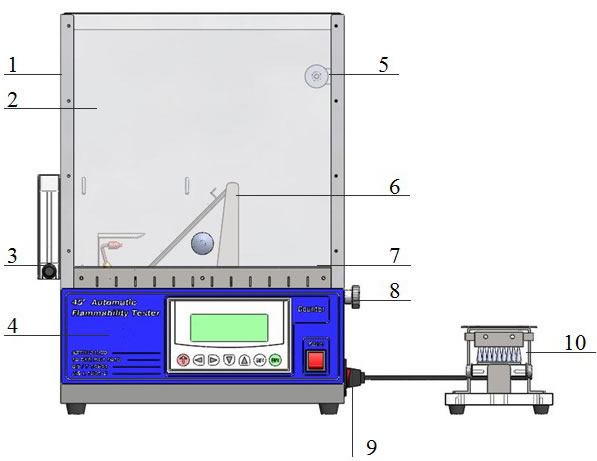 1. Test chamber
2. Sliding door
3. Flame adjustment knob
4. Control panel
5. Line roller
6. Test part
7. Vents
8. Sample holder adjustment knob
9. Power cord
10. Brushing device