Mattress Roller Testing Machine GT-LA02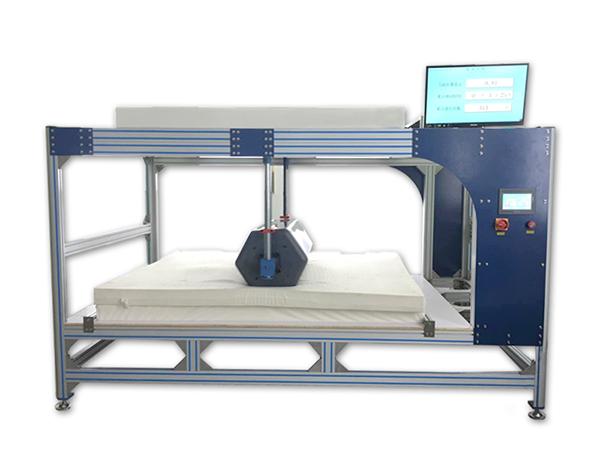 Application
The mattress roller testing machine is an instrument for testing the bearing capacity and durability of various types of mattresses under long-term repetitive loads.
Principle
It imitates the rolling over of people on the mattress by delivering positive pressure, lateral pressure, etc. This machine uses a cylindrical or hexagonal cylinder to test the load bearing capacity of the horizontally positioned mattress under long-term repetitive loads.
Feature
1. The whole machine frame is made of high quality good-looking aluminum.
2. PLC and controller are Japanese OMRON brand
3. This mattress testing machine is equipped with two motors. One is for controlling vertical movement of the cylinder, and the other is for the horizontal movement of the cylinder. The two motors are Matsushita servo motors imported from Japan.
4. The screw is high-speed screw designed by our company, which features low noise and high wear resistance.
5. The alarming device is for the safe operation.
Specification
Model
GT-LA02A
GT-LA02B
Cylinder Shape
Hexagon
Cylindrical
Cylinder Length
36±3in(915±75mm)
1000mm
Cylinder Weight
240±10Lb(109±4.5kg)
1400N
Cylinder diameter (face to face)
17±1in(430±25mm)
300mm
Controller
PLC programmable control ,( OMRON )
Motor
Japan Panasonic
Test speed
0-20cpm (adjustable)
Stroke
0--1000mm
Power supply
1∮, AC 220V 50Hz
Dimension (WxDxH)
295*245*215CM
Weight
≈900Kg
Standards
ASTM F1566
BS EN 1957,QB/T 1952.2