Chair Swivel and Caster Durability Testing Machine GT-LB07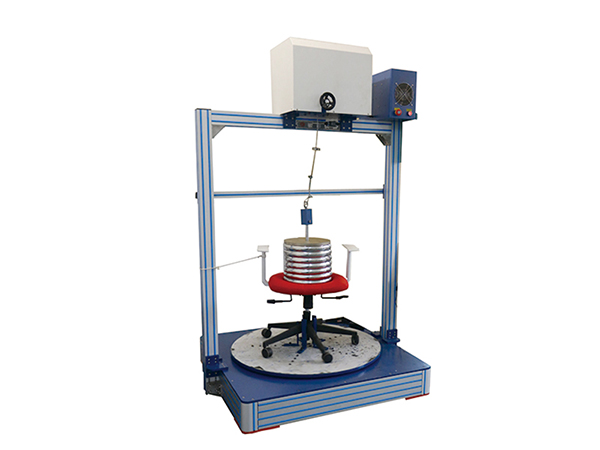 Application
The chair swirvel and caster durability testing machine applies to test all chair types with a swivel seat or with castors.
It is available for two major functions:
Chair swivel durability test:The base of the chair shall be secured on a rotating table so that the rotating axis of the chair coincides with the rotating axis of the table. The upper part of the chair shall be loosely fixed in such a way as not to hinder the rotation of the base. Load the seat in loading point with the specified additional load. Then rotate the chair at the specified rate and angle. Change direction after each rotation. Thus, durability of the chair's swivel structure could be tested.
Castors durability test: Load the seat with the specified load, the base and whose upper parts shall be loosely fixed in such a way that there is no rotation of the base but that the natural swivel of the castors during testing are not prevented, thus, to test the castors durability.
The purpose of this test is to evaluate the ability of the chair to withstand stresses and wear of repeated swiveling.
Key Specification
Model
GT-LB07
Control
PLC touch screen control
Rotating speed
5~15 r/min
Rotation angle
0~360o (arbitrary angle in both forward rotating and downward rotating)
Test load
225Lb(102kg),250Lb(113kg), accumulated weight
Cycling time
0~999999 (customized)
Power supply
1∮ AC 220V 50Hz 5A
Dimensions
100x100x140cm
Weights
300Kg
Standards
EN 1728-2012 Section 6.29 method 1, 7.11 ,7.13 method 1
ANSI/BIFMA X5.1 - 2011 Section 9 ,
EN1335-3 -2009 Section 7.3.3, 7.3.5 method 1
QB/T 2280-2007 Section 6.6.12,
BS5459-2-2000 Section A 7.5
Standard Accessories
GT-LB01-10B BIFMA accumulated weights Caster fixing device Seat fixing device Seat surface fixing device